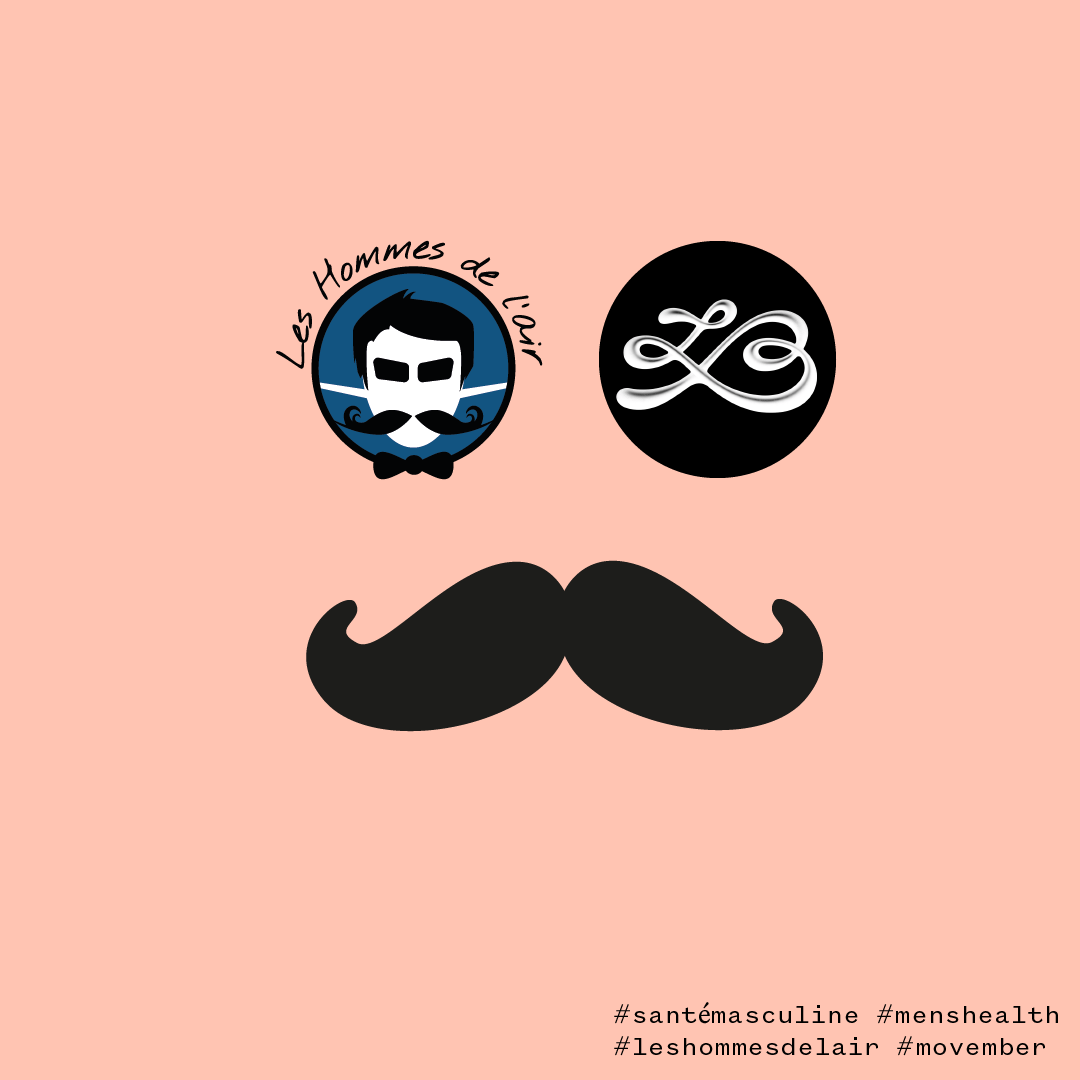 As I have explained several times in my blog articles, my journey and the Le Beau Tom adventure are littered with encounters and travels that have led me to offer you briefs and boxers today.
It was once again a funny encounter and a logical sequence of events that led me to get involved in the campaign to support the association
"Les Hommes de l'Air"
.
Before telling you about the fight carried out in line with the
Movember
movement, I would like to tell you how I came to the decision to support the association.
For those who have never read me before, I am a steward in a French company, and although on sabbatical to launch the Le Beau Tom brand, I continue to travel from time to time to visit my family. When I travel by plane I like to chat with my colleagues in the cabin, regardless of the airline, we are all colleagues.
This time I was traveling with Vueling and once is not custom the crew was very friendly. The discussion with the hostesses and stewards of this crew being easy, I came to talk about my brand of Le Beau Tom men's underwear. It was only natural that one of the hostesses asked me why I had not contacted "the Tik Tok steward".
For the novice in the world of sailors, many of us in the profession follow Mathieu, either on Tik Tok or on Instagram.
Mathieu is one of those social media geniuses who, with his creativity, his passion and his energy, has managed to attract thousands of followers. Thanks to his hilarious videos, in which many of us in "the milieu" recognized ourselves, he was able to build characters that have now become mythical for a large part of the Cabin Crew (yes, that's the slightly more pompous name given to us).
Following the suggestion of my colleague Vueling I contacted Mathieu with whom the current quickly passed. As luck would have it, we were both in Paris these days, we managed to combine an appointment around a coffee during which I was able to introduce him to Le Beau Tom as well as the brand's briefs and boxers. .
We discussed tons of topics and we came to talk about my desire to support an association such as #movember. It was enough for Mathieu to naturally direct me to @leshommesdelair, a non-governmental association which, like @movember, campaigns for better prevention of male diseases (whether mental or physical).
A steward who created a brand of men's underwear, sent by another steward to an association which campaigns for men's health and which is moreover founded by sailors: the circle was complete.
The association Les Hommes de l'Air organizes events every year (mostly on board commercial flights) with the aim of raising awareness of the prevention of male diseases and collecting donations for organizations or associations that act in the field. This year four French companies are taking part in the event which takes place in November each year: Air France, Transavia, Hop and French Bee. The President of the association, Romain, was immediately enthusiastic about the idea of ​​giving visibility to the association with this collaboration, and I thank him once again here.
For this 2022 edition, thanks to the donations collected, Les Hommes de l'Air will support the Paris Suicide Prevention Center.
Indeed, one of the actions of the association is to fight against men's mental illnesses which can cover a wide spectrum of suffering ranging from depression, alcoholism, all forms of addiction, through personalities.
The common point of these mental illnesses and that they can trigger suicidal thoughts, see an act. The men themselves speak very little of their suffering and it is certainly for this reason that in France 75% of deaths by suicide are men.
To fight against suicide it is necessary to break the feeling of loneliness linked to moral suffering. This is why the existence of a contact point such as the
Paris Suicide Prevention Center
is essential and these initiatives must be supported.
The CPS of Paris is a social antenna to break the isolation, with professionals who know how to listen and will be able to help and support all those who need it.
Despite the modest means of my small business, I decided to support this cause firstly by not talking about it, and secondly by donating 1 euro for each piece of underwear purchased on the Le Beau Tom online store during the month of November.
The Men of the Air are also a prevention relay against male cancers. Too often muted, cancers of the prostate or testicles are constantly on the rise.
In the fight against these cancers, prevention and therefore screening are formidable weapons. Early diagnosis greatly increases the chances of recovery.
Whether it is for the prostate or for the testicles, screening is essential.
For the prostate, it is advisable to do the first examinations from the age of 50 (45 if you have a family history or identified predispositions).
For the testicles there are no recommendations to date. Most testicular cancers are actually detected by the man himself. It is still advisable to practice self-palpation to identify any anomaly early on. Here you will find a short video giving you instructions on
self-examination
.
"We've got your back" is not just a slogan, it's a philosophy, a mantra.
If the primary mission of the Le Beau Tom brand is to bring maximum comfort and elegance to your packages and your bottoms, its role is also to be a vector of well-being for men, and this goes through the support for associations that know where and how to act. Thank you to all the generous souls who invest themselves every day to make life more beautiful for simple strangers.
We are in November, a month known to be difficult for morale: the excitement of the start of the school year is already far away and "winter is coming". This year the news, the media and certain daily realities do not make this month of November any sweeter.
But it is also the month of mobilizations, a month where we can see that the associative environment is creative, reactive and incredibly generous. Observing all the actions that can be taken when a group of people join forces to defend a conviction, to lead a fight, to help others, yes, observing all of this gives me wings and courage. If the adventure allows me, I made the promise to carry out other similar actions with Le Beau Tom.
While waiting for the next projects that will allow me to carry out this desire, I wish you all a beautiful #movember with @leshommesdelair and @lebeautom.
Take care of yourself.
Love from Le Beau Tom of my 🖤.